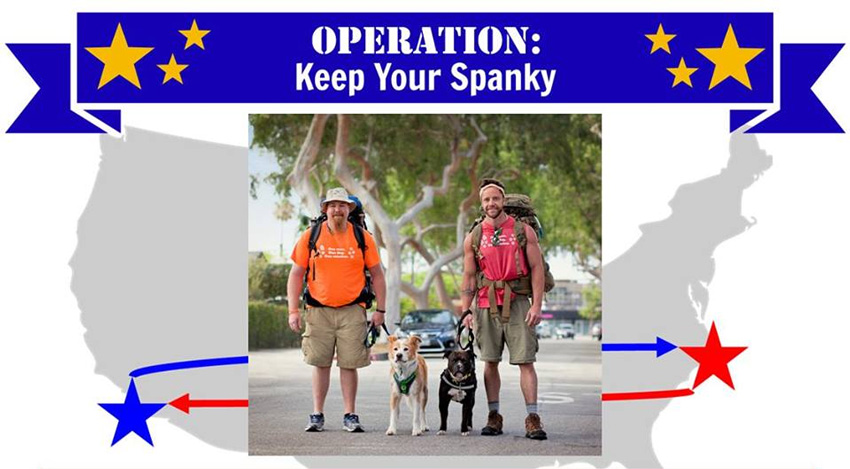 Thanks to YOUR SUPPORT - We MADE IT!
Our journey from Camp Lejeune NC to Camp Pendleton CA and back was followed live on Facebook and covered by many media outlets along the way, but your support and generous giving helped us make the journey, raise awareness and raise funds to help other vets and their pets!

You can read about our adventures in SPANKY'S BLOG, and get details about what it's all about and how you can still support the MISSION below.


We would like to thank each and every one of you for your support, cheers and friendship! What an adventure!



Thank you,
Dan & Spanky, Joe & CJ

---

-- A special THANK YOU to All who Sponsored our Journey. --

---

The story behind the 6,000+ Mile Journey Across America




When Sgt. Dan Spangler USMC returned from his deployment in Iraq in 2003, he was hurting. Dan was injured jumping from a truck when gunfire broke out at a checkpoint. He was sent stateside for medical treatment and soon he adopted a puppy and named him Spanky. The two quickly became inseparable.

Dan saved Spanky from a shelter, but Dan says Spanky saved him, too. Spanky became a loyal confidante and companion through years of painful recovery.

There are other military veterans just like Dan: wounded by war, both physically and emotionally, who rely on pets for comfort and support. Many of these veterans experience financial hardships and face difficult choices that sometimes mean giving up their pet, the companion they need.

Dan wants every veteran to keep his Spanky. So he and Spanky hit the road for a 6,000+ mile nomadic journey across America with fellow vet Joe Trainor and his dog CJ to raise awareness and funds for "Operation: Keep Your Spanky" —a new program of Dan's non-profit foundation to provide financial assistance to veterans to keep their beloved animal companions.

You can still help! Call Dan at 801-769-OKYS (6597)

---




Operation: Keep Your Spanky T-Shirts

Looking for another way to show your Operation: Keep Your Spanky Support? OKYS T-Shirts are now available! Get yours using the PayPal link above. T-Shirts come in an assortment of colors, simply select your size from the dropdown menu and contiune to checkout.

Follow us on Facebook and Twitter for additional information.